Needlers Group Update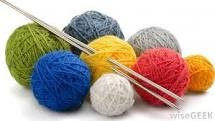 Come and enjoy an afternoon with great company and a variety of the needle arts, including knitting, crocheting, embroidery, needlepoint, etc. The Needlers Group will continue to meet in the Bonito Room on Thursdays with new extended hours from 1:00pm to 4:00pm.
We will also continue collecting blankets for Project Linus and scarves and hats for Operation Gratitude all year long. Donations may be left in the large gray bin in the lower left cabinet in the Bonito Room. Details regarding size, color, and other information can be found on their websites at www.operationgratitude.com and www.projectlinus.org.
We would like to extend a big thank you to all those who have taken the time to create blankets, hats, and scarves. Your generosity helps to make a difference in someone's life.
So please come and share your ideas and enjoy the company of other crafters on Thursday afternoons. We would love to meet you!